Eway Billing with Saniiro Technologies Private Limited
Welcome to the future of accounting and business management with . Our cloud-based accounting software is designed to simplify your financial operations, and we're excited to introduce our integrated Eway Billing feature, powered by <NSDL>. In this digital age, the creation and management of Eway bills have become a crucial part of maintaining seamless business transactions. Let's explore why Eway bills are essential and how Saniiro's integration with <NSDL> has made it easier than ever to generate and manage them.
---
The Importance of Eway Bills
Eway bills are electronic documents required for the movement of goods worth more than a specified value within a state or across state borders in India. These bills are generated for the purpose of tracking the movement of goods and ensuring tax compliance under the Goods and Services Tax (GST) regime. Eway bills provide transparency and accountability in the movement of goods, prevent tax evasion, and streamline the transportation of goods across the country.
E-Invoicing Excellence: Our integration with NSDL's E-Invoicing system enables you to effortlessly generate, authenticate, and manage electronic invoices in compliance with Indian tax regulations.
Seamless Integration: Saniiro seamless integration with NSDL ensures that your e-invoices are generated, registered, and managed with minimal effort and maximum accuracy.
Efficient Invoicing Workflow: Create professional invoices within moments, and let Saniiro handle the complex backend tasks. Save time, reduce errors, and improve your overall invoicing efficiency.
Real-time Tracking: Keep a finger on the pulse of your invoicing process. With real-time updates and notifications, you'll always know the status of your invoices and stay in control.
Secure Data Handling: Saniiro prioritizes the security of your financial data. Our platform uses advanced encryption and authentication methods to ensure the confidentiality and integrity of your information.
Automated GST Return Filing: Saniiro simplifies your tax compliance journey by automatically populating your GST returns with accurate e-invoice data, saving you valuable time and reducing the risk of errors.
User-friendly Interface: Navigating complex accounting tasks has never been easier. Our user-friendly interface empowers even those new to accounting software to manage their finances effectively.
Data Insights: Gain valuable insights into your business's financial health through detailed reports and analytics, helping you make informed decisions for growth.
---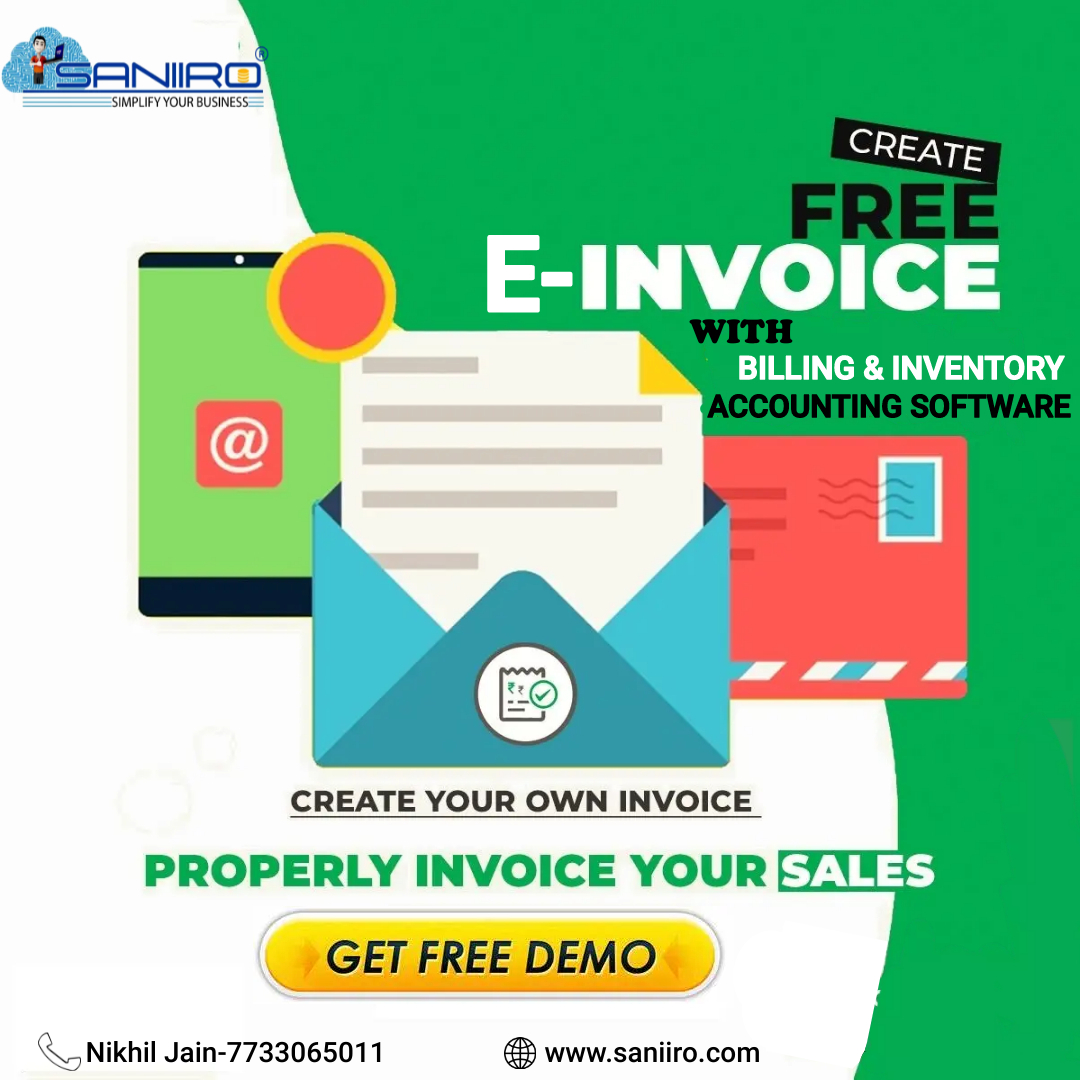 Request for live Demo
Simplified Eway Billing with Saniiro
Automated Data Sync: Saniiro's integration with NSDL allows for real-time data synchronization. Your invoice and transportation details are automatically captured from your accounting records, eliminating the need for manual data entry.
Effortless Eway Bill Generation: With a few clicks, you can generate Eway bills directly from our software. The system populates the necessary information, minimizing the chances of errors and saving you valuable time.
NSDL Integration: Our direct integration with NSDL ensures that your Eway bills are created and managed within a secure and compliant environment. This integration follows the latest GST rules and regulations, giving you peace of mind.
Centralized Records: All your Eway bills are stored in a centralized digital repository within our software. This means easy access, simplified audits, and reduced paperwork.
Real-time Tracking: Saniiro's Eway Billing feature lets you track the status of your goods in real time. You'll always have a clear understanding of where your shipments are and when they'll reach their destination.
Seamless Cancellation: If there's a change in your plans, cancelling Eway bills is just as straightforward. Our software ensures that cancellation requests are processed accurately and promptly.
---
Why Choose Saniiro for Eway Billing?
User-Centric Design: Our software is designed with user experience in mind. We believe that technology should be intuitive and easy to use, and our Eway Billing feature is no exception.
Compliance and Accuracy: Saniiro's Eway Billing adheres to the latest GST regulations, ensuring that your business remains compliant while minimizing the risk of errors.
Time and Resource Savings: By automating the Eway bill generation process, you save valuable time and resources, allowing you to focus on growing your business.
Expert Support: We provide dedicated customer support to address any queries or concerns you might have while using our Eway Billing feature.
---
Streamline your business operations, enhance tax compliance, and simplify the generation of Eway bills with Saniiro Technologies' integrated cloud-based accounting software. Embrace the future of accounting technology and experience the ease of Eway Billing like never before.
---
Join the Saniiro Revolution!
Experience the future of business accounting with <Saniiro> <NSDL>-integrated Eway Bill solution. Empower your business with efficiency, compliance, and growth-oriented features. Take the leap into seamless accounting today and witness the transformation firsthand. Saniiro: Where Accounting Meets Innovation.